Valentine's Day is the perfect excuse to celebrate the ones you love and what better excuse to host a party than for your Galentine's?! (AKA girl Valentine's or gay Valentine's? Not sure, but none the less, a great excuse for a party).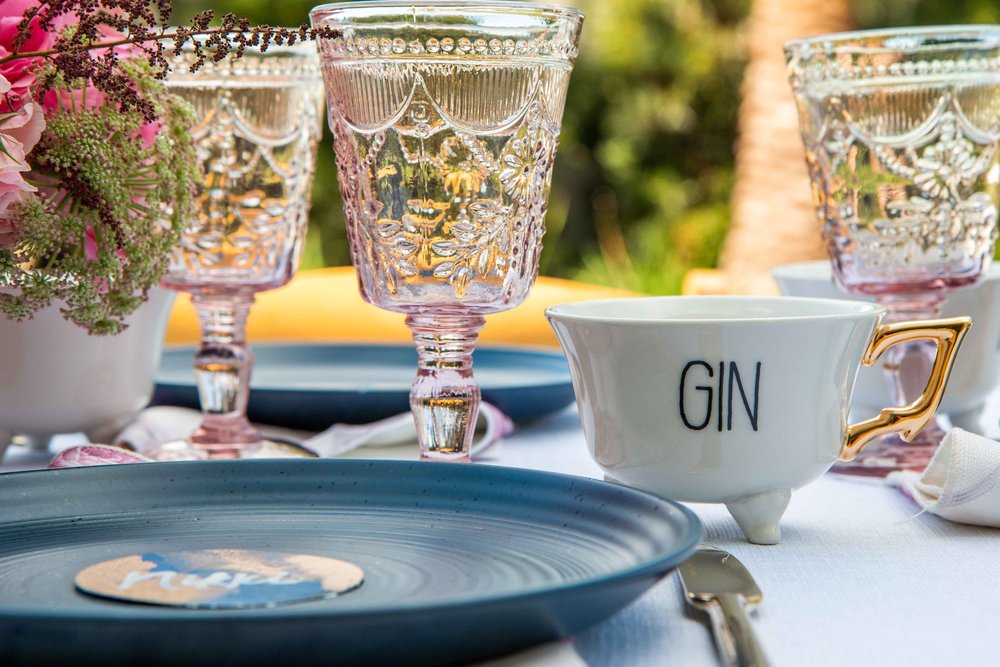 Leading into this Valentine's Day weekend, I hosted a Par-Tea for a dozen women from my community. Some of them I already knew and some of them I met at my party for the first time. I put my friends Nikki and Meghan of Order & Co. in charge of this guest list and they did an amazing job choosing this group of bad ass, hard working ladies who really appreciated gathering by the pool for cocktails and brunch on the Friday morning leading into Valentine's Day Weekend.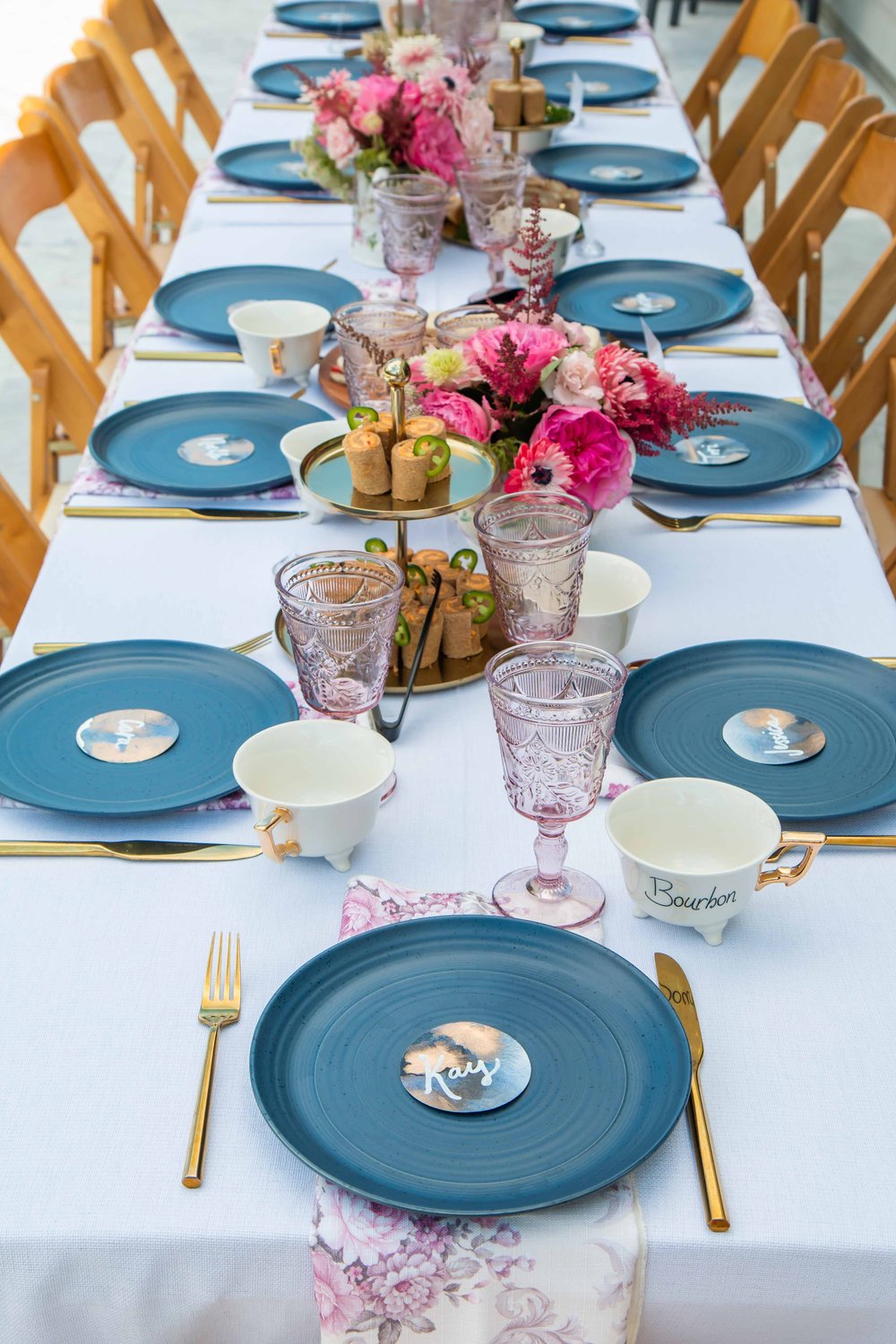 Though I wanted the theme of this Galentine's Day brunch to be a Tea Party, I didn't want it to be too floral or frou frou. I wanted an urban, chic tea party vibe. I went with a navy, pink and gold color palette which I felt gave the tablescape some edge and we sourced the most fabulous tea cups that gave away the secret of spiking and then we sent every guest home with their tea cup at the end of the party.
To keep things spicy and give a nod to all the fabulous women at the party, we looped Sex and the City (circa first season) on the TV in the backyard. We pressed play on the Galentine's Day Playlist that Shaylan curated which was a great mix of upbeat love and party songs.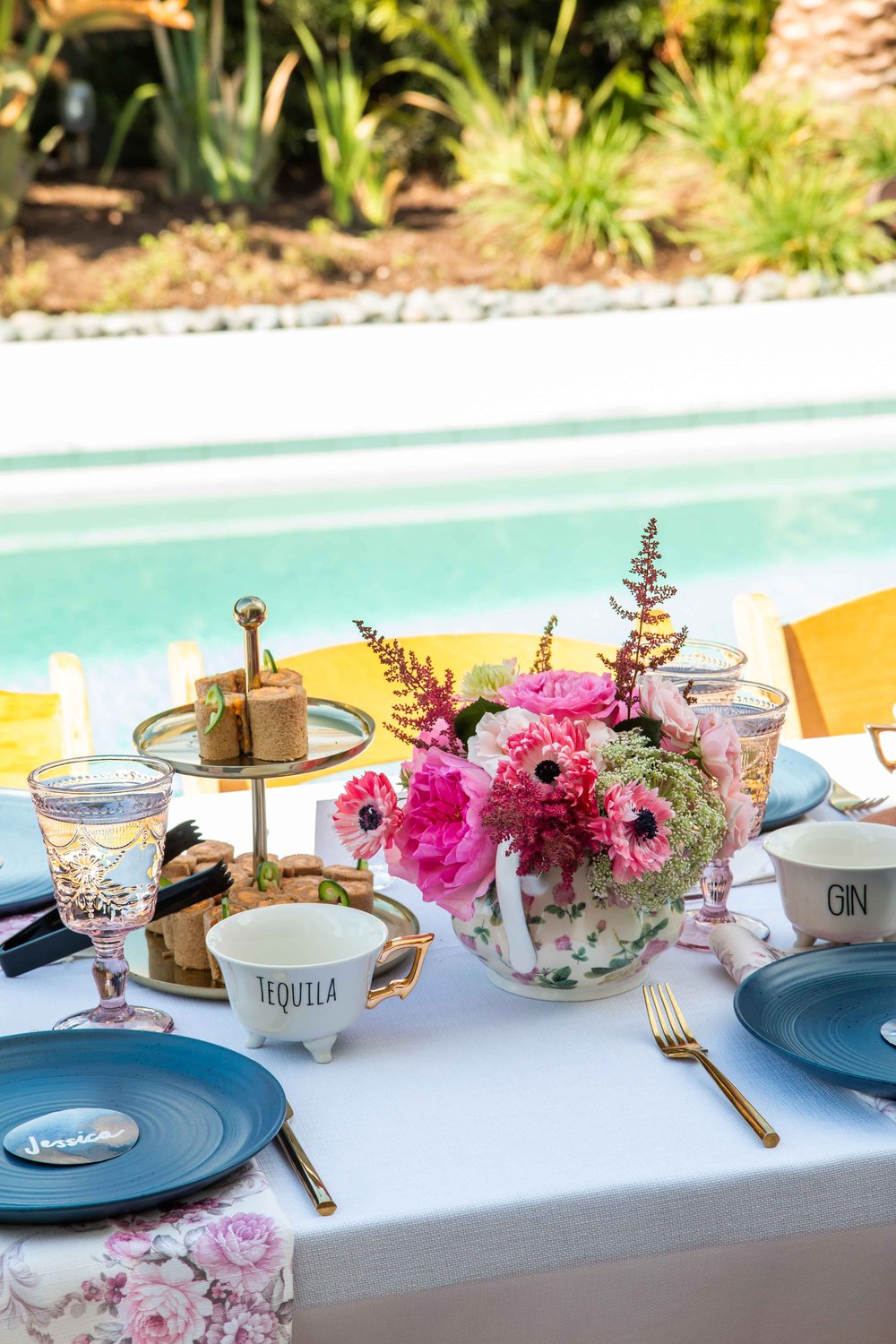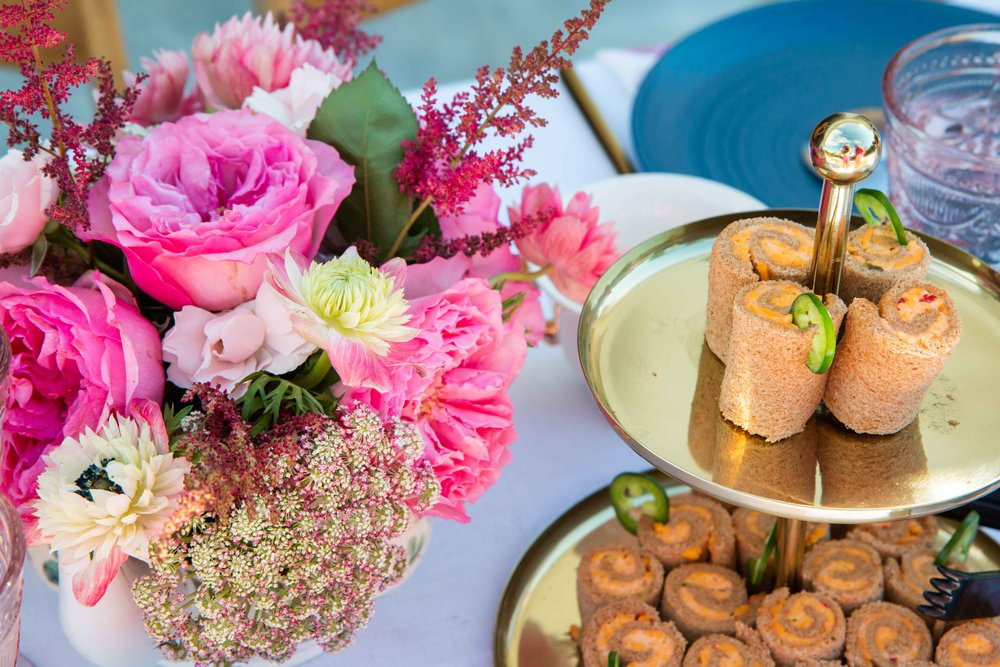 When I first started planning this party, I quickly decided to bring in a chef instead of taking on the meal myself. After a quick search on the Facebook groups that I now belong to here, I found Jessica Day Healthy Gourmet. She had a tea party menu on her website and it was too perfect for my party. I worked with Jessica to use my platters which she picked up a few days prior to the party so she could plate everything directly on there. Here's how the menu played out: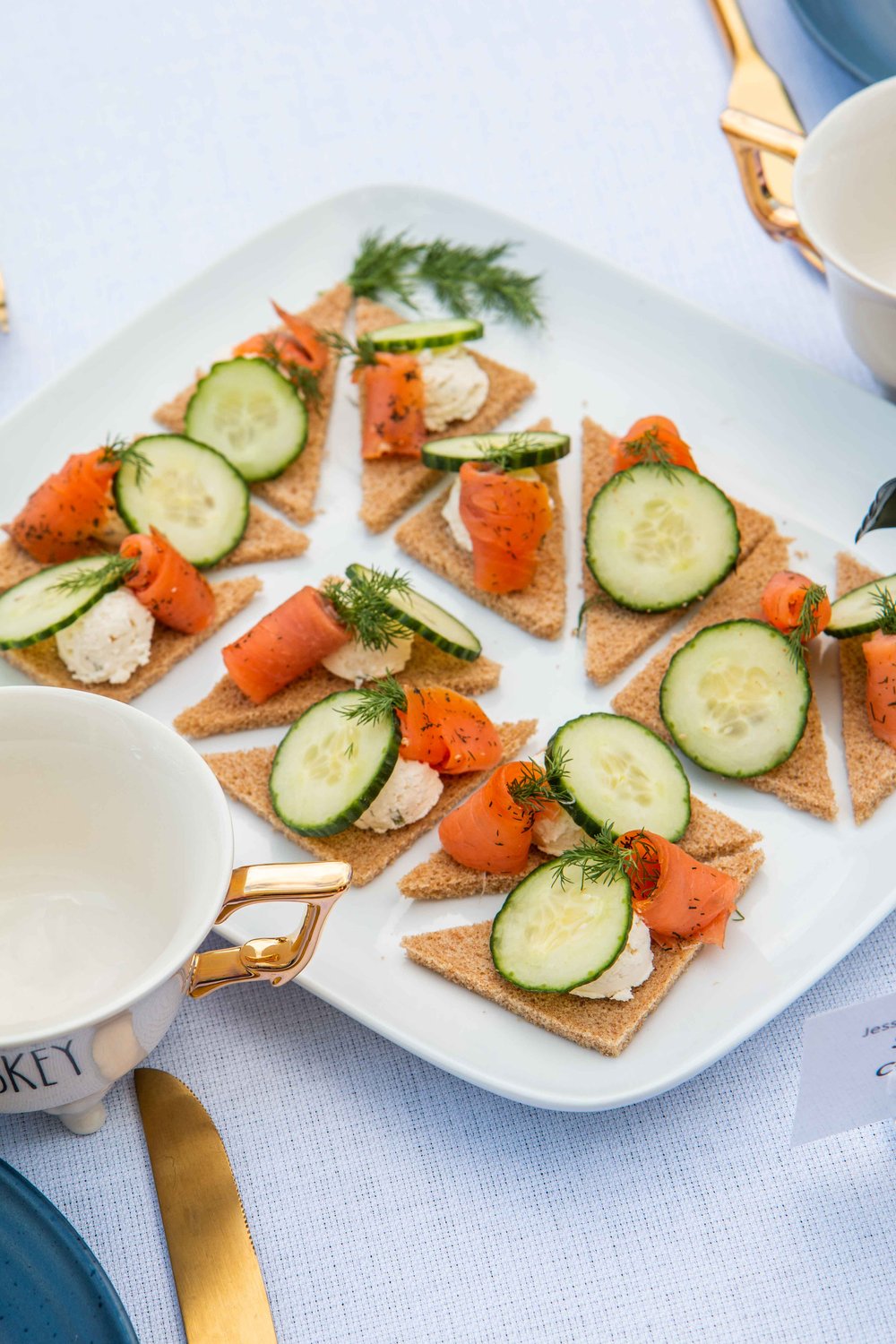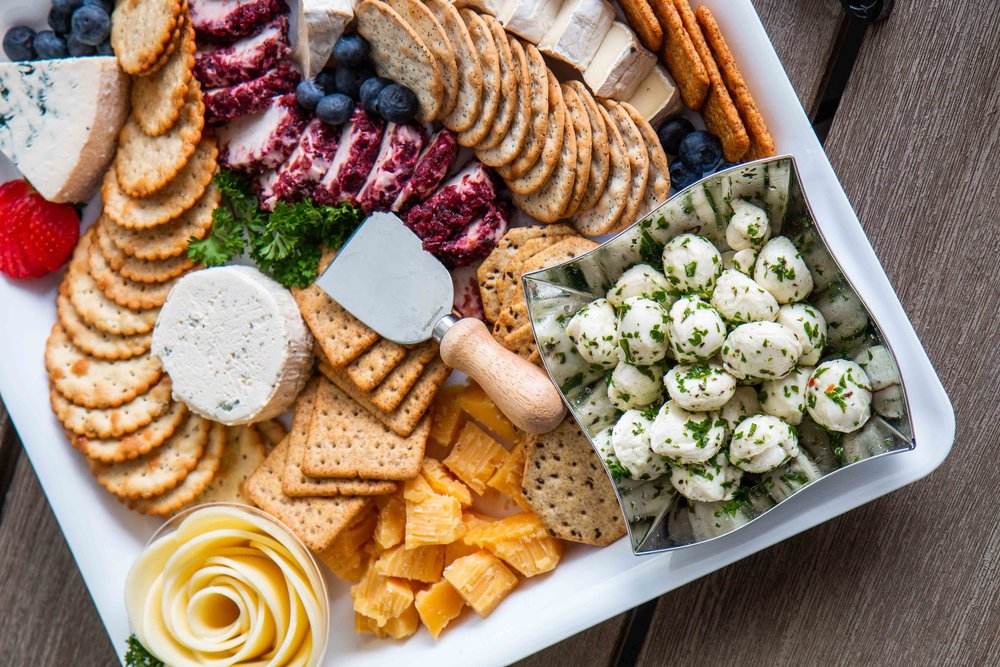 Tea Sammies:
Egg Salad, Pancetta and Chive
Smoked Salmon, Cucumber and Dill
Jalapeño Pimento Cheese
Shrimp & Avocado Salad
Heart shaped Strawberry Lemon Ricotta
Caprese Skewers
Cranberry Brie and Thyme Tartlets
Asparagus Crispy Prosciutto and Ricotta Flatbread
Fruit + Cheese boards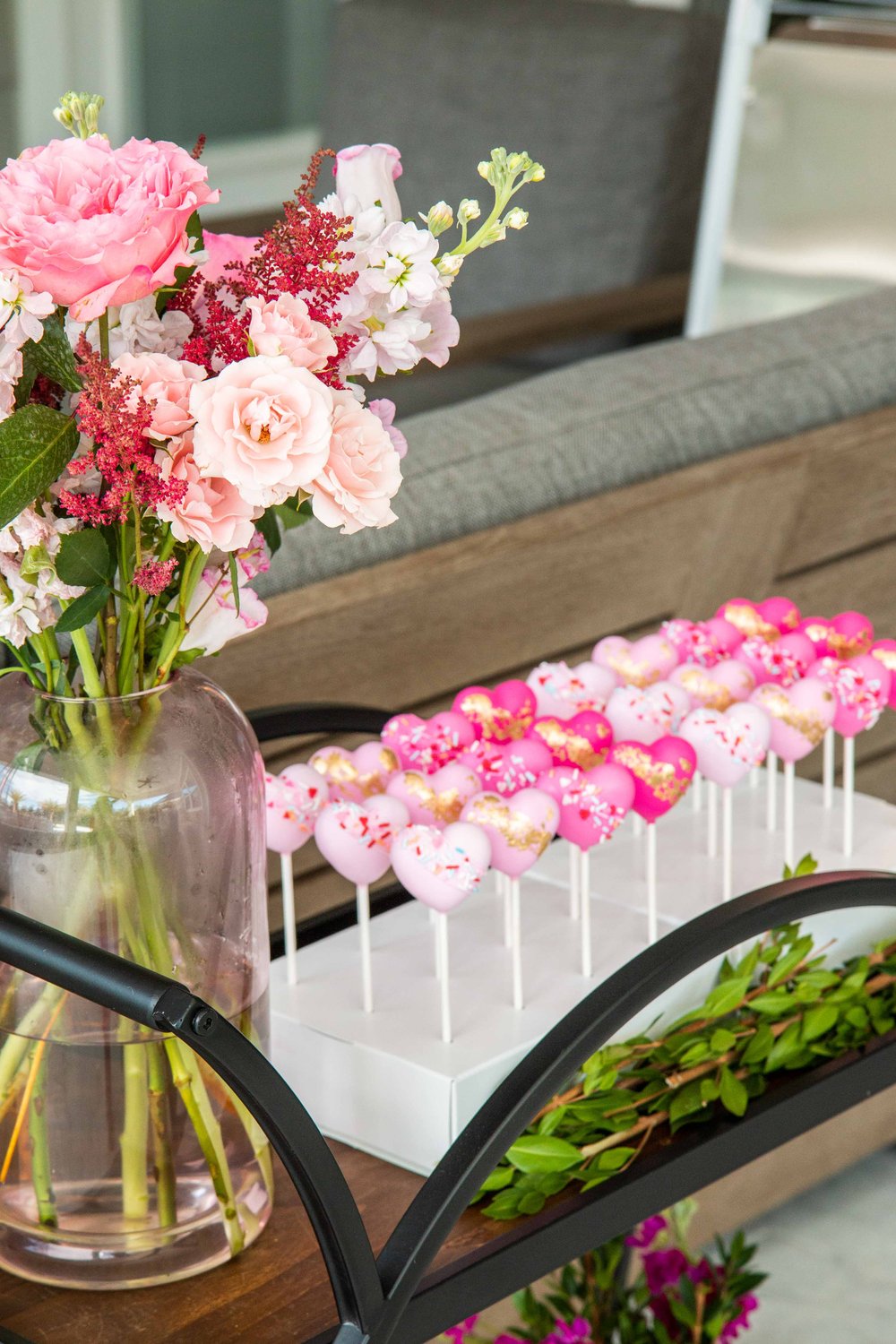 For dessert, we discovered the Cake Pop Shop who I had been dying to work ever since I found their instagram account and this was the perfect opportunity. Her cake pops are so stunning I could just die.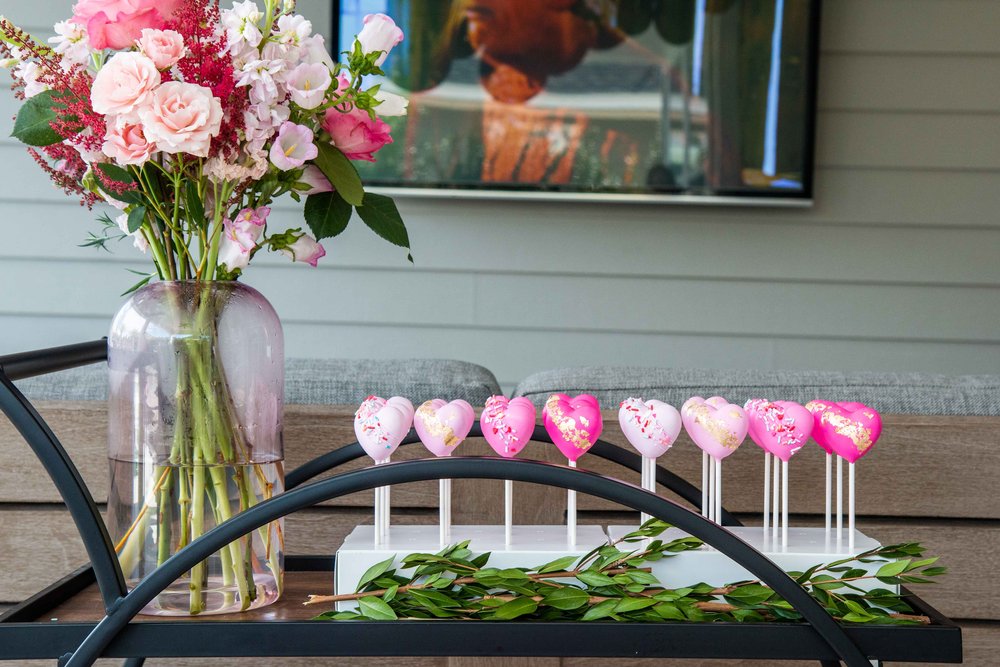 For a little entertainment, I hired a Mixologist to come in and demo a couple of cocktails for my guests to learn how to make and sip on during the party. Our Mixologist Ashley asked me what I wanted her to make and I hands down knew that first on my list was an Espresso Martini. It played into our tea party theme so well and is such a trendy cocktail right now AND the best part was … Ashley made a MEAN Espresso Martini that everybody loved! For the second cocktail which we enjoyed over dessert, Ashley shook up a Strawberry Green Tea Vodka Sour and served these in our special tea cups that everyone then took home at the end of the party. Ashley shared her recipes with me so I could share them here – Yay!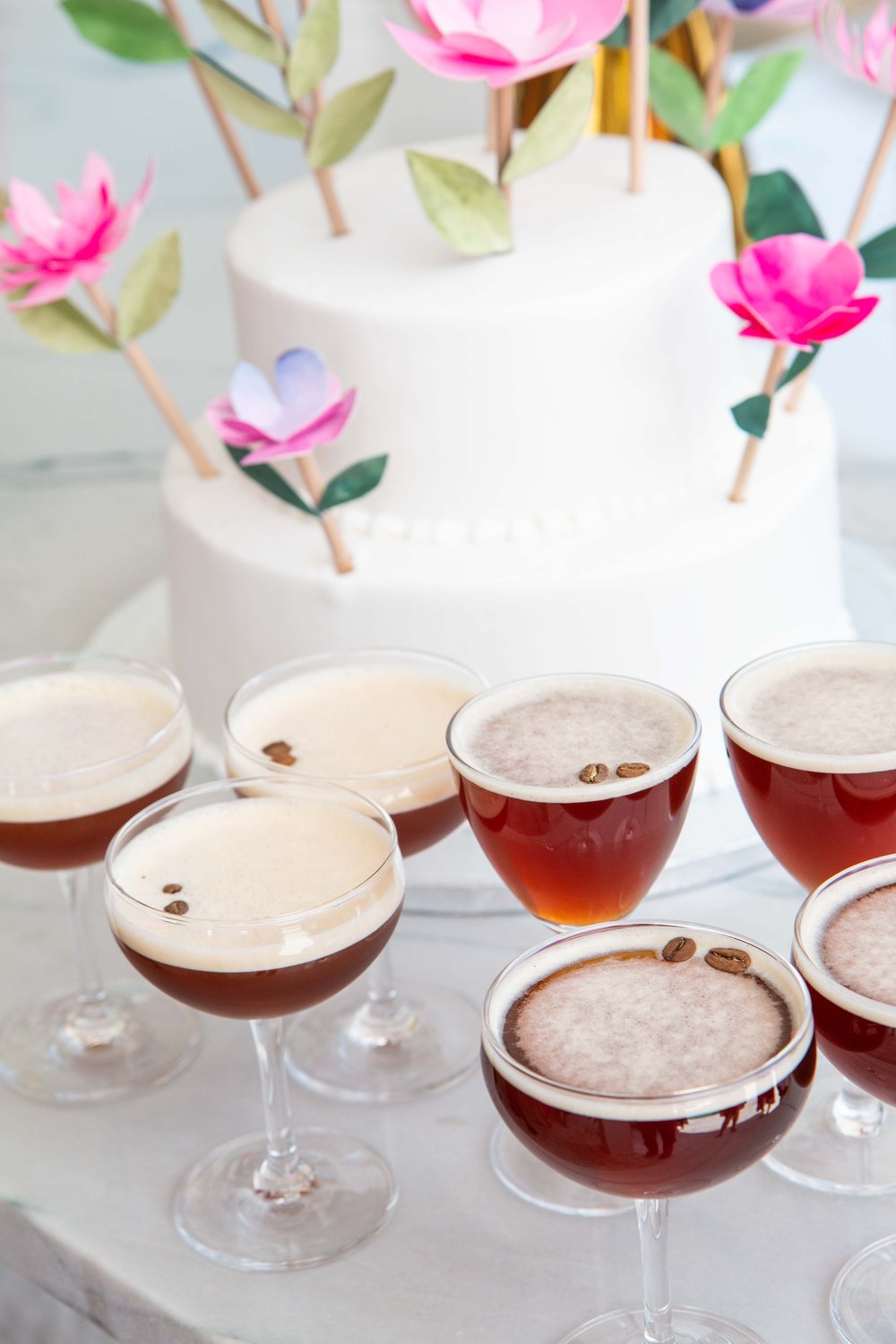 Espresso Martini
2 oz vodka
1 oz espresso
.5 oz St. George Coffee Liqueur
.5 oz vanilla bean turbinado syrup*
Shake all ingredients in cocktail shaker/double strain into coupe glass/garnish with coffee beans
*Vanilla Bean Turbinado Syrup
4 cups water
4 cups turbinado sugar
1/4 tsp vanilla bean paste (scraped vanilla pod will also work)
Bring water to a simmer, add sugar, stir until dissolved. Add vanilla once syrup is removed from the heat. Should remain stored, in the fridge, for roughly two weeks.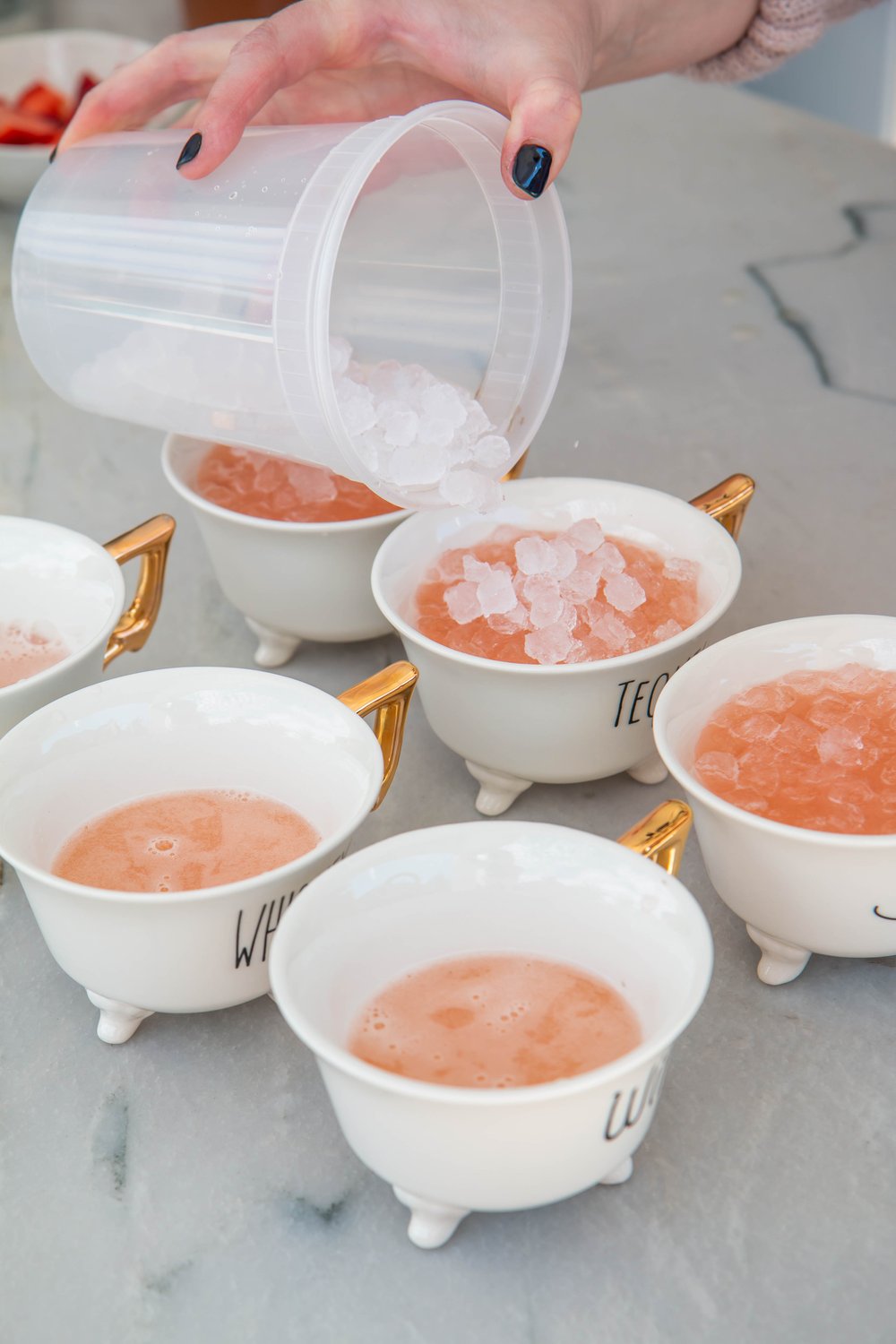 Strawberry Green Tea Vodka Sour
2 oz vodka
.75 oz fresh squeezed lemon juice
.75 oz green tea simple syrup*
2 strawberries
Muddle strawberries into cocktail in shaker tin/shake all ingredients together/double strain over pebble ice/garnish with mint sprig
*Green Tea Simple Syrup
4 cups water
4 cups granulated sugar
8 green tea bags
Following tea steeping instructions on package, steep green tea as directed. Remove bags, giving them a good squeeze to gain as much tea flavor as possible. Add sugar, stir until dissolved. Should remain stored, in the fridge, for roughly two weeks.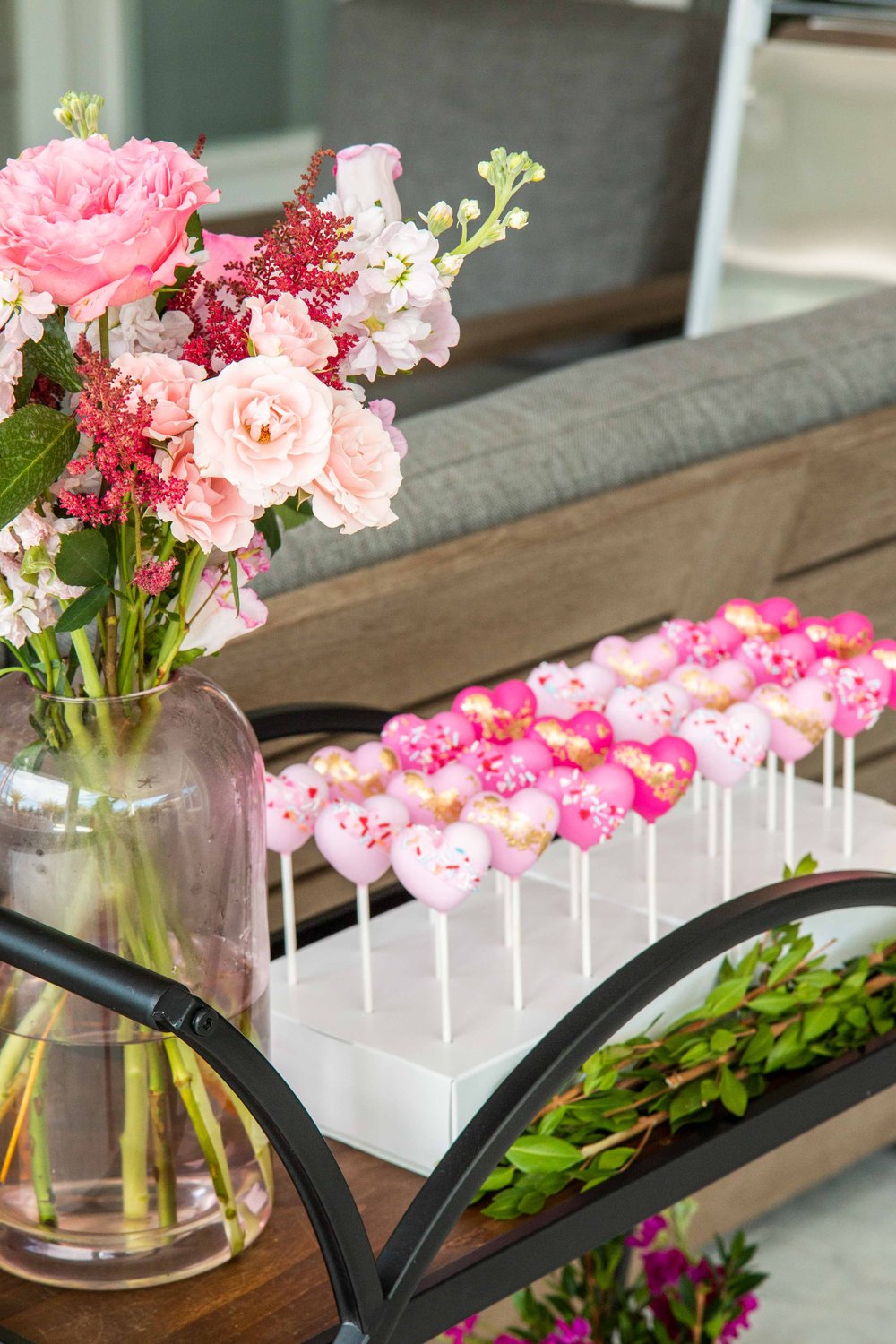 The party was an absolute smash with great food, drinks and the most lovely women.
Happy Galentine's!