Now that we have lived in our new Florida house for almost a year, it's much easier to talk through the details of it all because now I can really see the functionality in everything that I did.
In my first "Florida house" recap that I wrote a little while back, it was mostly about the bedrooms and of course, my beloved laundry room, which is still my favorite room in the house.
I spend the majority of my time in the kitchen and I've got to say, I just love having a large, open, well lit kitchen. Back in New York, our kitchen was small and closed off so when people were over, I felt very out of the loop if I was in there cooking. I suffer from extreme FOMO (fear of missing out) so it's nice to have a large, inclusive space where our kitchen, dining and living room are all joined together.
I left the kitchen as is and only updated the island by painting it black and replacing all of the hardware to a matte black. I love the look of the bright, crisp white counters and cabinets that's off set with the black details to create a super chic vibe.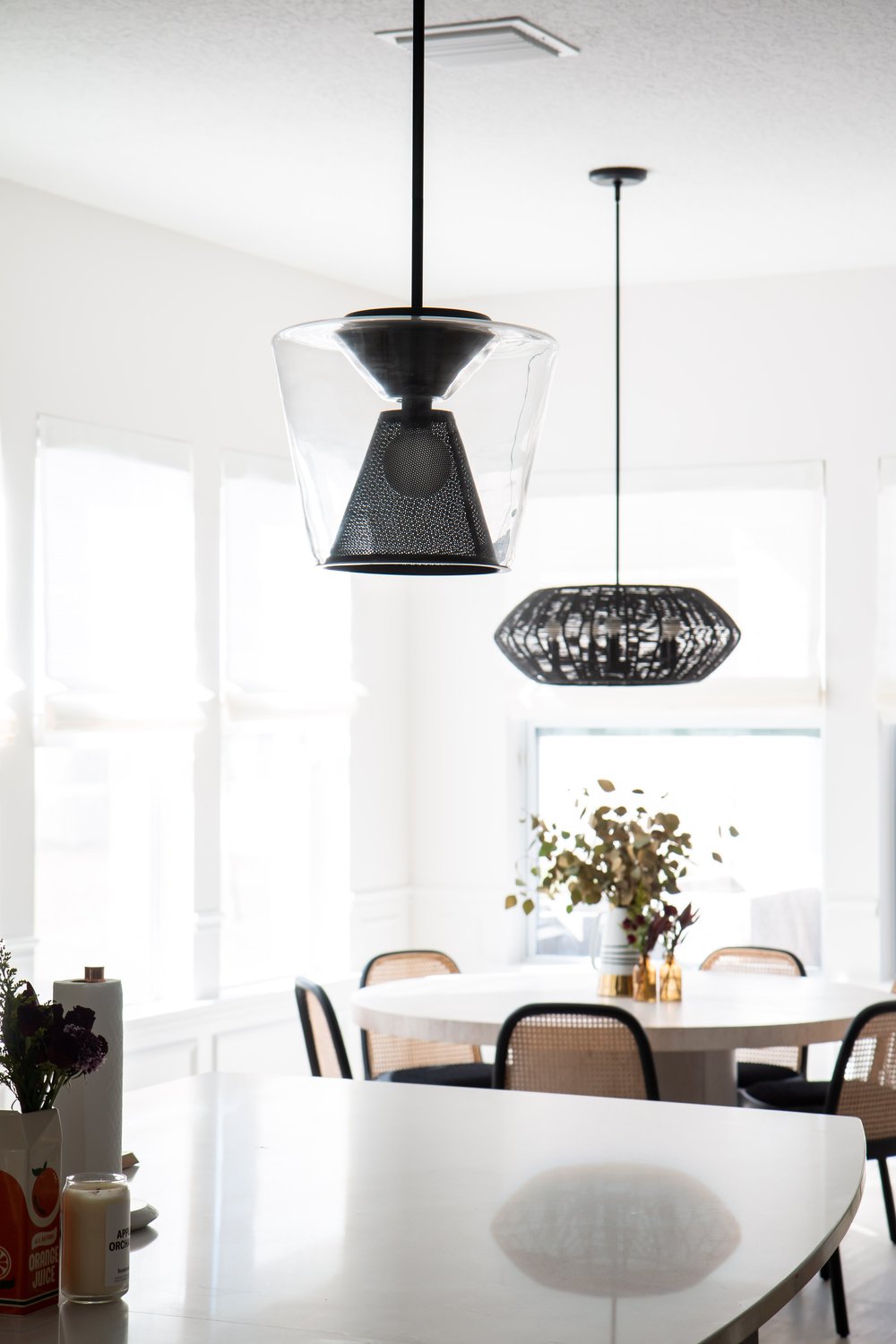 Another detail that I put a lot of thought into and am SO thrilled with the outcome, is the round dining table that I found here. I have never had a round table but always wanted one! It makes such a difference…I love when everyone can see each other and feel included in the conversation! No one is on the "far side" of the table this way!
The living room is standard with a comfy couch and a large coffee table that is so nice for hanging out. We watch hockey games together, have game nights and often fall asleep on the couch as we zone out in this room.
The other day I talked about Adam's office which is the perfect use of that room in the front of our house. One of the greatest features (though it was the most difficult to execute and I'm traumatized from the process) are the new stairs that we had built and the carpet runner that we installed. Not only is the carpet cushy and so soft on your feet but it prevents slipping on the stairs and looks super chic in the subtle gray and white print that we chose. I love how you can see the stairs from Adam's office and I love even more that our house is set up so perfectly for the adults to be on the main floor and kids to be upstairs.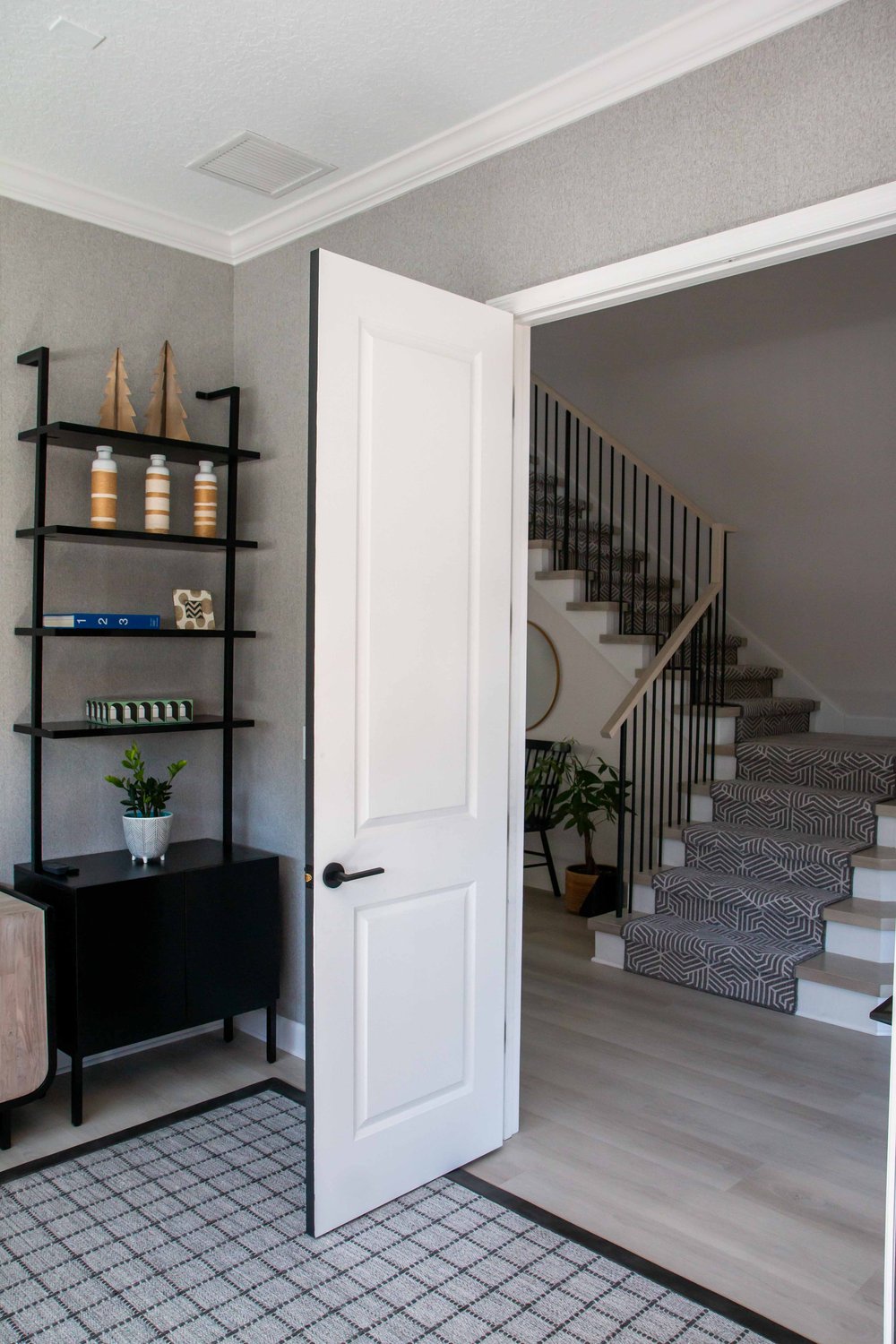 There are two bedrooms upstairs that are separated by a common area that we turned into a game room. This area is so wonderful for the boys when they need to unwind and incredible for when they have friends over. I put an air hockey table in here (which doubles as a ping pong table), a mini fridge full of water and bubbly (Luke's dream come true) and of course, their gaming station.
There is a common bathroom that is right off the game room so they share this as well and that's nice because they are boys so I'm sure you can imagine just how filthy this bathroom gets…one boys bathroom is better than cleaning two boys bathrooms !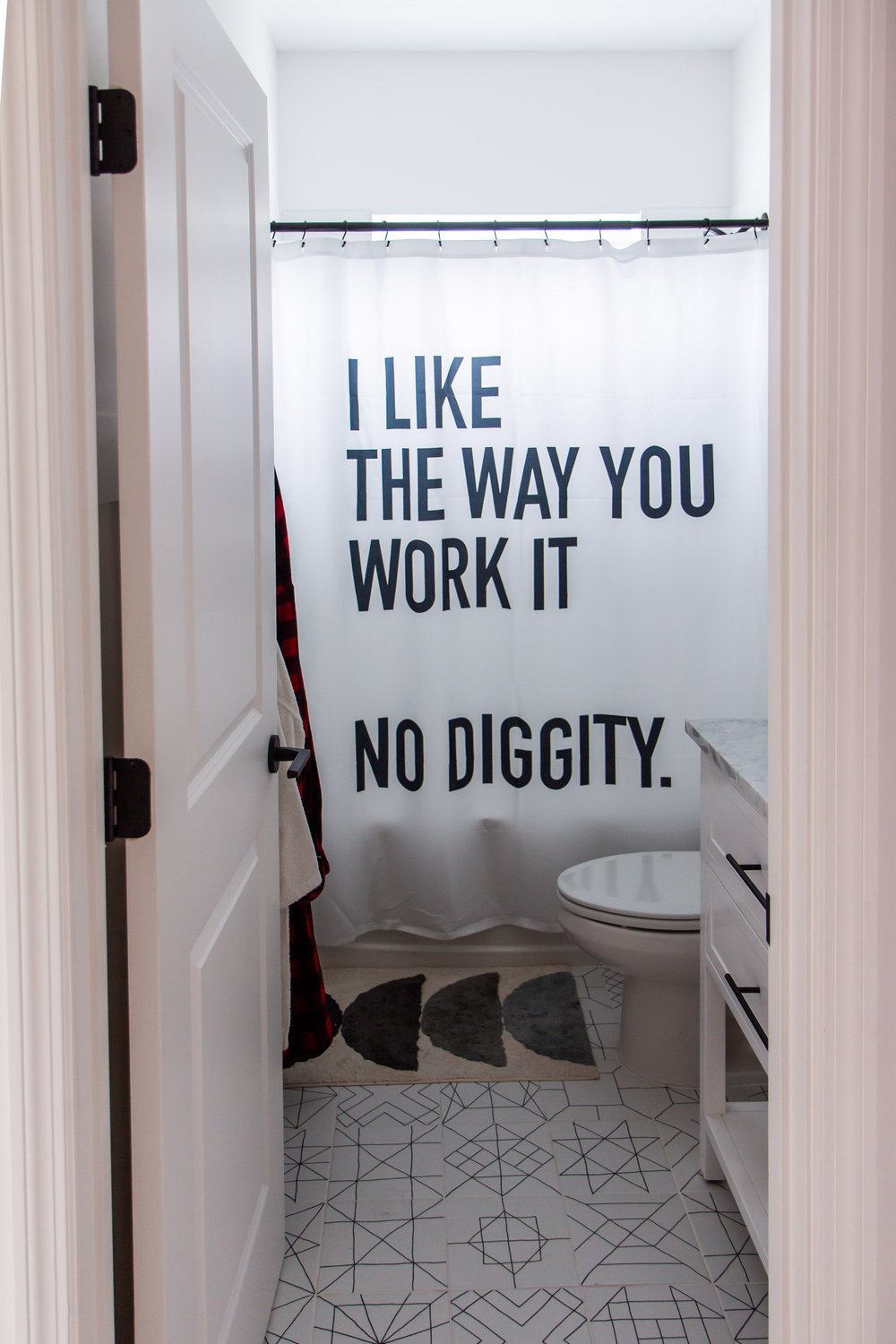 Luke's room is so him. We found an adorable (yet quite sophisticated) monster wallpaper. We put it up on one of the walls and then took leftovers and framed over his bed. His carpet is my absolute favorite and compliments the wallpaper beautifully.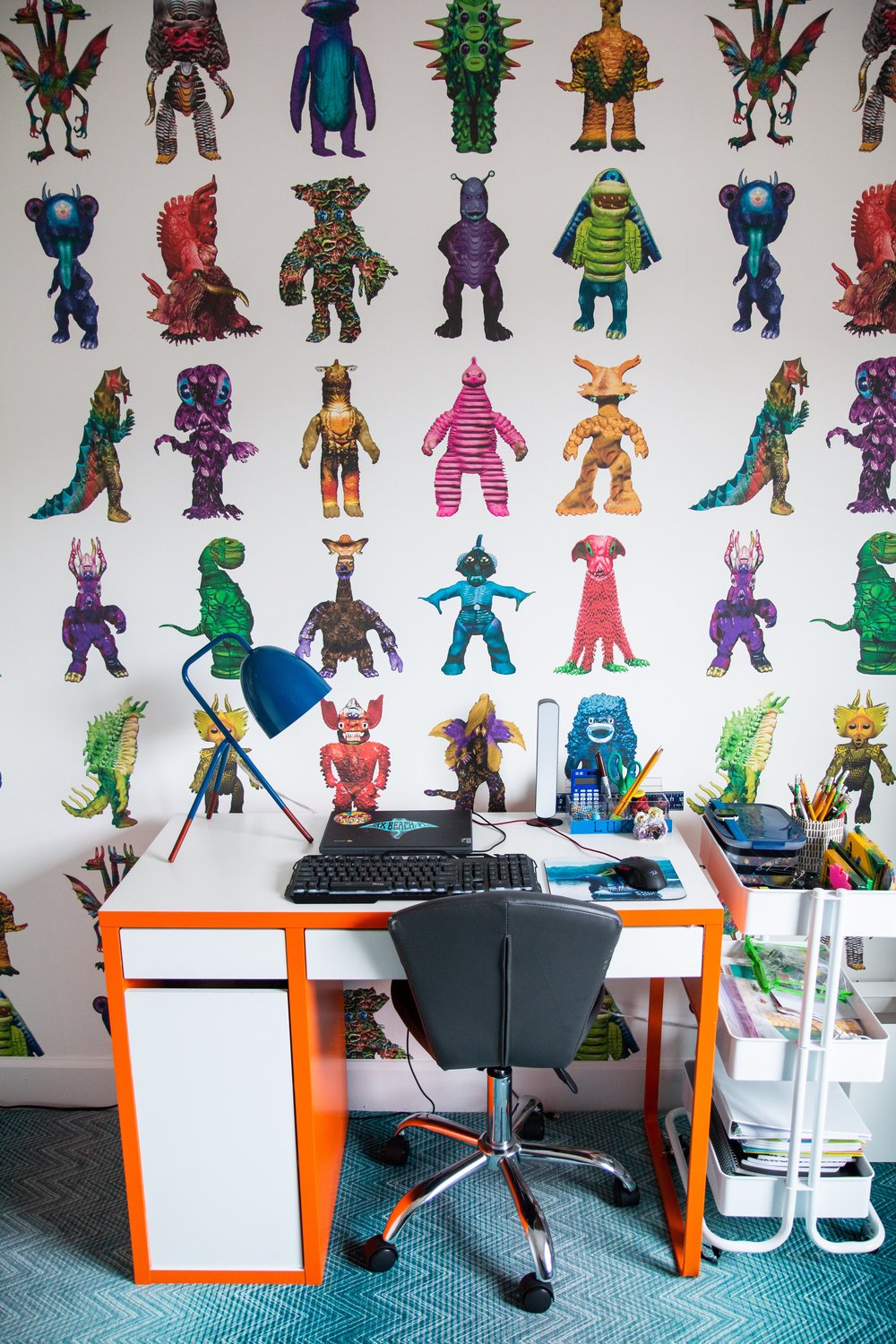 Gavin's room is also VERY him! Masculine but nods to his sports career thus far. His hockey number has always been #44. I had a custom "44" LED piece made for him by Name Glo. They are a total pleasure to work with and they did a fantastic job with his piece. Gavin had no idea that I was making this and LOVED it! Maggie and Natalie designed and painted the mural on his wall behind the 44 which turned out looking so cool.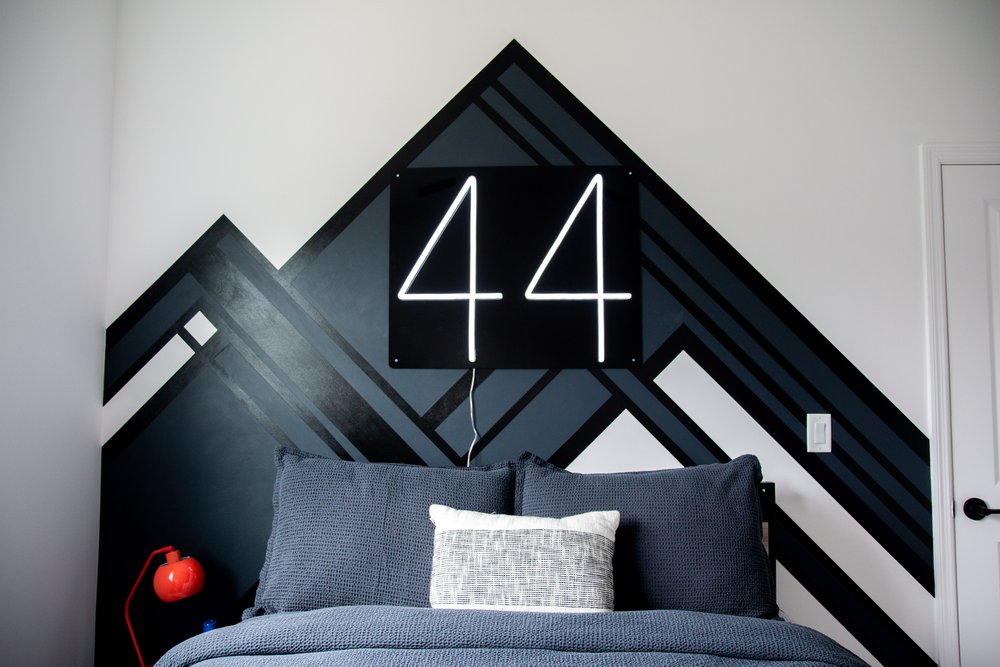 Last but not least is the kids bunk room as we call it. We often have visitors and many of them are families with more than 2 kids. This room is perfect for guests with children! There is an en-suite bathroom and I put in 2 sets of bunkbeds so the room can sleep up to 4. I chose a super color carpet and wallpaper making this room the brightest, most fun room in the house!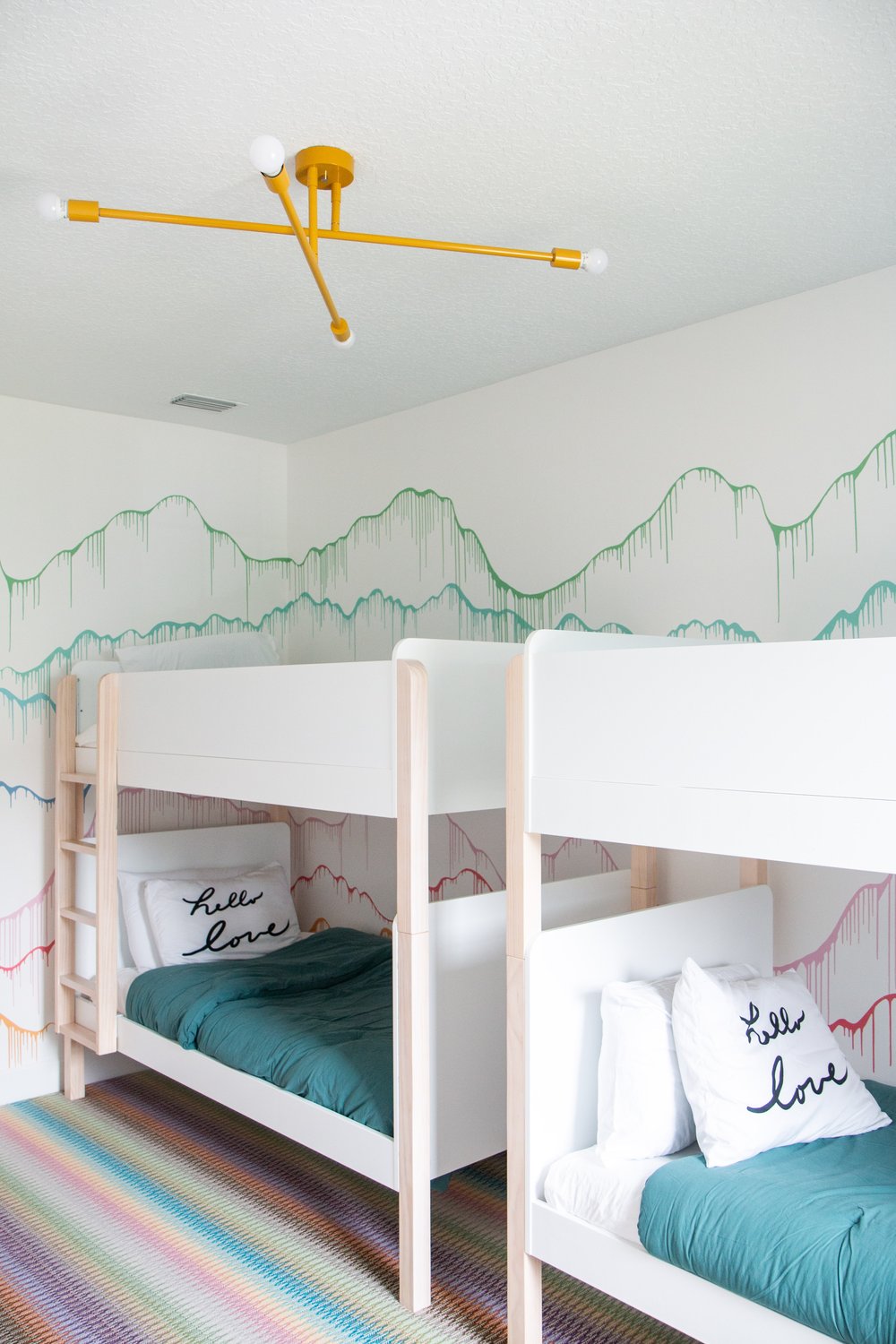 My kids also use this room when they have their friends sleepover so they can all be together. Bonus to this room is the large closet that had shelves built into already…I quickly turned this into my LMP Closet!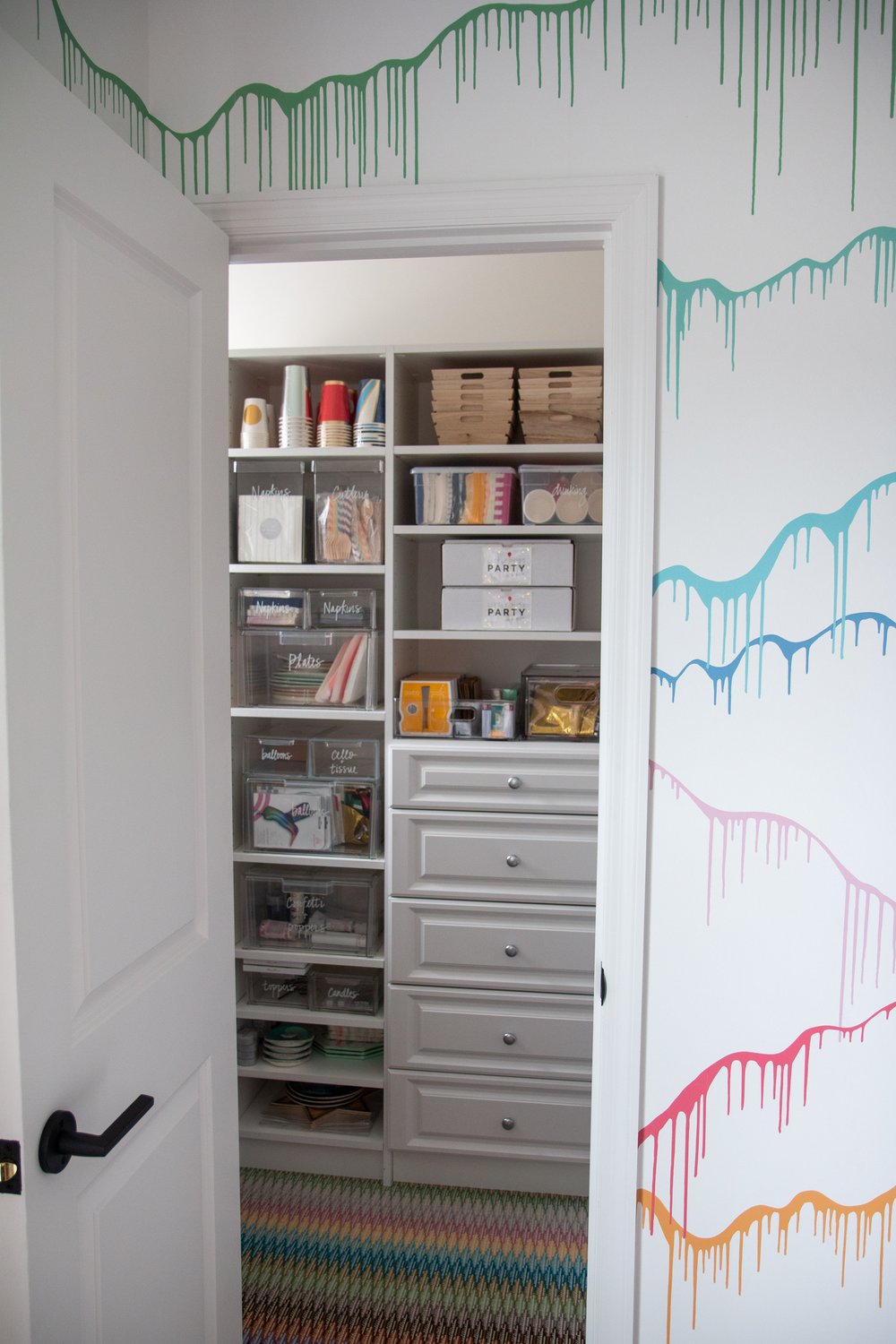 So…what's your favorite room in my house?!
Couldn't have pulled this all off without these incredible WOMEN:
Design and mural paintings: Maggie Antalek of Nestia Home
Design: Lisa Hershman of Abaca Interiors
Closet Design and shelving installations: Meghan + Nikki of Order & Co.
Wallpaper installation: Marisa Lynn Studios